New Construction St. Petersburg, FL
Posted by Tayna Alexander on Wednesday, August 23, 2023 at 1:08 AM
By Tayna Alexander / August 23, 2023
Comment
St. Petersburg was once known as a quiet city for retirees to spend out their last years, a city called "God's Waiting Room". A few decades ago, St. Pete was a city that didn't have many bars, restaurants, and downtown was a complete ghost town, I mean empty! Just to prove the point, I was a law school student living in St. Pete who would travel to Ybor City for entertainment. These days that would be hard to believe.
St. Petersburg always had great character, friendly people, positive vibes, arts, amazing beaches, and sunshine; however the city has undergone a huge transformation over time. Today, St. Petersburg is thriving with diversity, restaurants, activities, arts, and a younger crowd. The energy that explodes with vibrance in this coastal city has caught on and the secret is out.
Within the last 3 years there has been an influx of individuals and families moving to the area and St. Petersburg is responding by building new construction to service this new population. In 2022, the City of St. Pete issued a record number of permits which brought in more than $1 billion in S. Petersburg new construction value and the city's building official believes it could happen again.
St. Petersburg's demand for housing is not going to slow down and prices are not getting any cheaper. Unfortunately, there isn't much space or land to build on, so you won't be seeing many single-family home developments newly constructed in St. Pete. However, if you are looking for a new construction in St. Petersburg FL the townhomes are bountiful. Here are some to pay attention to.
Alante, New Construction condos in St. Petersburg
Alante will be built at 302 15th Street North on 1.1 acres of land and will be equipped with 26 units.
Alante will offer four distinct floorplans ranging from 1,661 to 2,223 square feet, with 2-3 bedrooms, and 1 car or 2 car garages. Each home will come standard with open-concept living spaces, designer kitchens, quartz countertops, stainless steel appliances, and wood-style flooring. Each four-story unit will also feature a rooftop terrace ranging from 408 to 464 square feet depending on the floor plan.
Units will come pre-wired for the latest smart home features allowing homeowners to control their thermostat, garage, and front door locks with just the touch of their cell phone or sound of their voice. Units at Alante will be 50% more energy-efficient than a standard new home.
Driftwood: New Construction Townhomes in St. Petersburg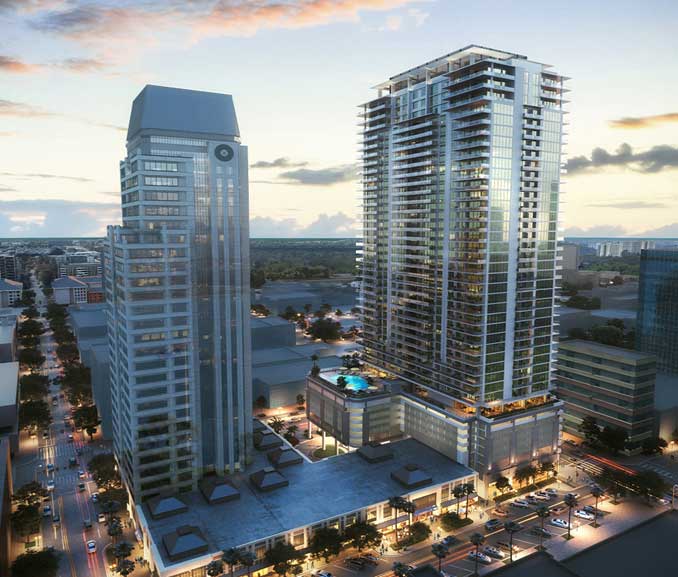 Driftwood is currently under construction in the Grand Central District at the northeast corner of Central Avenue and 29th Street in St. Petersburg. The Grand Central District offers an eclectic food, bar, and art scene making the area highly desirable. Another desirable fact for this community is that the townhouse requires no HOA and is purchased in "fee simple"(like a single family home).
This St. Petersburg's new community will have eleven residential units across two buildings ranging between three and four stories. The building fronting Central Ave will have five residential units which include ground floor retail space.
The idea is to appeal to entrepreneurs or professionals who need commercial studio space or want a live-work setting.
A second building, which is currently underway, will be located off Central Ave that will include six smaller units. These units will not have ground floor retail, but they will contain space on the first floor that could be used as an office or creative studio. Each unit will have either a one or two car garage, will range between 1,800 square feet for the smaller townhome units up to 3,100 square feet for the units with commercial space, and will have 3 bedrooms.
Innovation Townhomes: St. Pete New Construction Community
Innovation will be located on the northeast corner of 9th Street and 6th Avenue South in St. Pete's Innovation District. This area is home to major employers like John Hopkins All Children's Hospital, Bayfront Health St. Petersburg, and the University of South Florida St. Petersburg.
Innovation will be located on 0.9 acre lot and consist of 26 units. The residences will have three floors of living space along with a rooftop deck and outdoor entertainment space. The sophisticated finishes include gas ranges, hurricane impact windows, outlets pre wired for electric vehicle charges, high-end fixtures, and each unit will also include a private garage.
There are three different floor plans within this community. The largest floor plan is nearly 2,500 square feet, three bedroom/three and a half bathroom, has a two-car garage, a 44 square foot porch, a 42 square foot balcony, and nearly 300 square feet of rooftop patio. The smallest floor plan is 1,857 square feet, two bedroom/two and half bathroom, has a one car garage, and a 300 square foot rooftop patio. This new construction in St.Pete will be a concrete block building and construction has already begun.
Terraces at 87: more new construction in St. Petersburg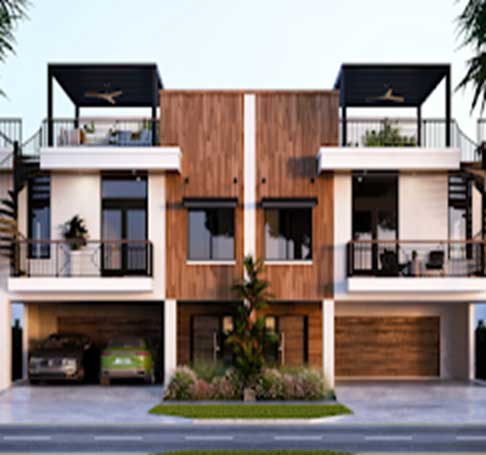 Terraces at 87th is a 92-unit townhome community located at the corner of 4th Street North and 87th Avenue in St. Petersburg. This community is a private retreat of thoughtfully designed three-story homes with spacious three- and four-bedroom open concept floor plans and oversized glass doors.
The open floor plans create bright homes that connect all aspects of home life, from cooking and dining to relaxing and unwinding in the living room. Clean lines and elegant craftsmanship await Terraces at 87th. The townhomes feature nine-foot ceilings as well as glass French doors. The outside windows on each home are made with reflective privacy glass, impact-resistant hurricane windows.
Modern Chef's kitchen is equipped with top-of-the line gas appliances by GE Profile, with upscale custom cabinetry finished with Classic Calacatta countertops, accentuating the waterfall edge island.The spacious bedrooms welcome residents each evening and morning with soft lighting and light wood floors. No detail of the residence was overlooked as each main bedroom features a spacious walk-in closet, double vanities, and sparkling glass-enclosed shower and private water closet.
Each home is equipped with a large four-car garage consisting of 1,054 square feet. As well as covered driveway parking. Each garage offers maximal humidity-controlled storage and accessibility.
Terraces at 87th come with a 69 square foot second-story balcony connected to a rooftop terrace via spiraling staircase. The rooftop is enabled for energy-efficient solar panels. This 695 square foot private terrace can be upgraded with options of a summer kitchen and jacuzzi. Enjoy outdoor living in this private paradise.
New Construction in St. Petersburg FL is growing. The city has over 40 current new construction projects and over 40 proposed projects for the near future. If you are looking for a piece of new construction in St. Petersburg FL, now is time to act on this revived sought out city. If you are serious about buying a home in St. Petersburg (or the surrounding area), Tayna Alexander can give you some serious help. Call her direct at 727-219-1706
Buyers Broker of Florida 727-202-9130