Tips for Buying a Home in Tampa Bay 2023
Posted by Eve Alexander on Friday, January 27, 2023 at 12:14 PM
By Eve Alexander / January 27, 2023
Comment
This blog is written by Eve Alexander, a seasoned Buyer Broker who has 30 + years experience of seeing it all…including mistakes that homebuyers make. Buyers can avoid mistakes when buying a Tampa Bay Home if they follow these smart home buying tips:
…and yes, every home buyer deserves to feel as good as this guy:
#1 Before you start looking to buy a home…get your financing in order.
Decide whether or not it is best to pay cash, take out an equity line on your existing home, or pay for this next purchase with a whole new mortgage.
That means ideally speaking to 2-3 experienced mortgage brokers for an evaluation on your financing/borrowing power. Just like in a real estate transaction, experience is everything.
Don't rely on your personal bank for a mortgage. Most mortgage people at banks work on salary, not commission. That means they don't care if you close on time, or close at all.
While they are trying to plug the holes for the documents they just submitted to the underwriter, your rate lock could expire and you no longer qualify. Yes, that does happen.
Stay off the Internet for your loan!
Don't put your personal information on the internet to have lenders "compete" for your business. The person reading your request may be someone on another continent, waiting to sell your information or start ordering furniture on your credit card. Yes, that also does happen.
Use a local lender that is recommended to you
In Florida, the lender must be licensed to do business in Florida. I say "local" because even the mega companies that are licensed for Florida but operate from outside the state, do not understand all the loan nuances that are required for this state.
Don't be afraid to qualify the lender
Feel free to ask them how long they have been in the mortgage business, who you will be dealing with and whether or not they work at this full time. Sometimes, the person that you speak to is not the person that will package your loan and make sure that it is submitted optimally.
If in doubt, find another mortgage broker. A good mortgage broker is priceless. Since they do work on commission, they have a vested interest whether or not your loan goes through and on time. (or they don't get paid). Feel free to ask us for recommendations: 727-202-9130.
Know your numbers and comfort level.
A homebuyer needs to know exactly what loan amount they qualify for AND what loan amount they are comfortable with.
Many times what a buyer can qualify for and what they are comfortable with are two different figures. This loan amount may also vary with the type of property, the taxes, the HOA, and insurance requirements.
There is no such thing as a bargain interest rate
All good mortgage brokers will be close to each other in what they quote. If something sounds too good to be true…don't believe it.
Keep in mind that no one can guarantee any rate unless you are in contract to purchase a home. Only when you have a property under contract can you lock in an interest rate.
Put more money down on your loan, if you can. Cash does talk…most of the time. Sellers and their agents do look at the financial quality of the buyer and they do gauge that by the amount of money that a borrower is putting down on the loan.
The general consensus is that the bigger the deposit on the loan is, the more qualified the borrower is. That is not always true, but it does help if the appraisal is short or extra money is needed. Most sellers have more comfort when a buyer appears to have an adequate downpayment for the loan.
If paying cash please note that when making an offer, you will need to provide a POF (proof of funds) that you do have the cash available to cover the transaction.
This can be a monthly bank statement showing the balance, or a letter from your accountant, banker, or financial manager.
#2 Interview three brokers to find a a savvy Buyers Agent and don't be afraid to ask the hard questions:
What percentage of your business is representing home buyers?
Whose side will you be on if I want to buy a property listed by your office?
What specifically will you do to protect me?
Will you put your promises/duties to me in writing?
Do you provide me any fiduciary duties?
Check out their Broker Reviews and company on-line presence.
In a perfect world all brokers would either represent the seller only or represent the buyer only…having separate representation is always the ultimate goal, just like in a courtroom. This is not a perfect world so you need to do your homework when picking an agent.
#3 Why do the majority of Florida Agents work as Transaction Brokers?
Today in 2023, Florida Real Estate is all about the money and only about the money...
Which is why the majority of agents work as Transaction Brokers.
As such, their duties to anyone are limited and their goal is to have both the buyer and seller in the same transaction, so they can collect double the commission.
The state of Florida's legal definition describes a "Transaction Broker" simply as a middle person that remains neutral and does not advocate for anyone: There is no advantage for a home buyer to use a Transaction Broker regardless of what any broker will promise, as the law is very clear; Transaction Brokers offer NO fiduciary duties; no loyalty, no total confidentiality and no full disclosure.
Be aware that in order to be represented, Florida requires a written Single Agency Agreement that clarifies the duties of both the broker and buyer.
This agreement, commonly called a "Florida State Buyers Agreement" does not make the agent an Exclusive Buyers Agent unless they do work in a Buyer Brokerage office that does not list property, does not represent sellers and does not have a conflict of interest.
Buyers Broker of Florida is a true Exclusive Buyer Brokerage office that has no listings to push, no loyalty to sellers, no bait and switch and no pressure. We tell it like it is and let the buyer decide how they wish to proceed. You should consider hiring a an Exclusive Buyers Agent when buying a Tampa Home.
Compare Broker Services to make a smart decision:
Here's what Consumer Advocates say about agent duties:
It's your money…be aware and choose wisely.
#4 Build a relationship with your Buyers Agent
If you are not comfortable or don't trust your agent 100%, choose a different agent.
The relationship between the buyer and their agent should be one of trust going both ways. A buyer should be confident that anything they tell their agent will stay private between only them.
The buyer should also understand that the seller, the builder or the seller's agent's duty is to promote the best interest of the seller, not you. As such the buyer should not divulge any personal information to the seller or their agent. If in doubt, ask your buyer's agent first.
TOP TIP:
Speak less and listen more…
Sellers do not need to know your line of work or about the business you own, or how much money you really have. The less the seller knows about you, the easier it is to negotiate a contract for you.
#5 Buyers and Sellers do not have the same goals.
Buying a home in Tampa Bay is a business transaction, not a dating game. You do not need to schmooze or impress the seller. The seller wants top dollar and you want the lowest price possible. You want everything fixed and the seller wants to not bother fixing anything.
I have learned that when a buyer tries to be "buddy-buddy" with the seller, negotiations get sticky…for example:
Buyer and Seller went to breakfast prior to closing…they each thought that the other was wonderful…until the seller moved out and took all the brand new appliances with him. Seller claimed that the buyer's told him to remove the top of the line appliances (worth $10K) and the buyer claimed they did not have that conversation. Now what?
Buyer tells the seller "not to worry" about cleaning up the back yard…until the day of closing when the buyer realized that there were hundreds of pounds of broken glass left behind in the yard. Now what?
A builder decided to substitute some of the upgrades with cheaper quality…smaller tiles, no glass in the front door, no bay window, no flooring in the screened room. Buyers that think they can handle buying a home in Tampa Bay without a buyers agent, will end up with the short end of the deal; paying top dollar and settling for less.
Most of the time, homebuyers are unaware of how the real estate game is played and never learn about what they could have been entitled to, because no one tells them. We do.
#6 Sellers sometimes remove things that should stay with the house.
Since I have seen and heard it all, I am no longer surprised by anything... Sellers have removed crown molding, light fixtures, ceiling fans, designer drapes, trees, security systems, water softeners and even the pavers in the driveway.
Some sellers assume that it is OK to take the good appliances and swap it out for the old junk in the garage. Some sellers' agents also think that is acceptable. No, It is not OK, because that is not what you agreed to buy. I have even had sellers swap out the designer kitchen spigots for a cheap set…yes, for real!
Often sellers do not complete repairs in a professional manner and take shortcuts like fixing a roof leak and not replacing the rotten wood or even stuffing rags inside a leaking water heater to make it appear "fixed". If you want something fixed, you must spell out the details in a written agreement and have the seller sign it.
#7 Don't expect the seller to do favors for you or expect that they will handle your transaction "Fairly"...
What does "Fair" even mean? For whom? If the buyer has not addressed an issue contractually, chances are that it will not be resolved without a trusted buyer's agent jumping in to make it right.
A purchase contract, signed by the buyer and seller already has the rules written in it. Both buyer and seller must adhere to what they already agreed to in the contract. Any changes must be agreed to by both parties. Working with Buyers Broker of Florida, you will become an educated home buyer, but will the seller understand their obligations? Maybe, or maybe not.
If you get a request from the title company or seller to either remove something or pay extra for something, please discuss it with your personal buyer's agent or your attorney before you agree to something that is not in your best interest… more than likely it's not even your obligation.
Just because the seller's side wants something from you does not mean that you must do it. One time the builder requested an extra $10K from the buyer because he claimed they made a mistake on the cost of the staircase. Oftentimes, they ask to substitute with something inferior…and sometimes they just do it without asking (Buyer refused and still closed).
Final decisions are always yours to make after your Buyers Agent advises you of your best options. An experienced Buyers Agent will sort through and resolve most issues for you, which is why you need to choose your agent carefully.
#8 How to pick a property to buy…
The media always says that the inventory is at its lowest. While that may be true, that does not mean there is nothing for you to buy…there is always property available.
First of all, you need to decide what type of property you want for your lifestyle and budget. Will this be a vacation home, permanent home, or investment property? If you are not sure, check with us to learn the difference.
A vacation home or permanent home should have certain upgrades. However, if you wish to buy an investment property, it does not need to be perfect, it just needs to be a good rental property.
I remember one of my favorite investors many moons ago…she never cared what the property looked like, how big it was or the city it was in, her only question was…"Can I make money with it?" She was a smart lady and I still sell her properties. My point is that an investment property does not need to be "pretty"…it just needs to be a smart investment.
#9 Buying a property sight unseen in Tampa Bay

Yes, at Buyers Broker of Florida, we can handle that. The secret is having an experienced buyers agent as they will become your eyes and ears. We have many clients that not only buy sight unseen, but also never come to home inspections, the walk through or the closing until after the deal was closed.
Our duty is to go visit the properties being considered and give it a true evaluation. We tell the buyer all the good, bad and ugly and never pressure a buyer to buy. In fact, we suggest not buying a property more often than we give the green light to buy.
How to evaluate the home…don't go looking only for flaws. View every property of interest to see if you may enjoy living there, or if you can make it work for your needs. You can always fix the inside, but you cannot move it to another location. If it is a "possible fit", keep it on the list. If not, eliminate it and move on.
If you can't find any property that you are interested in, maybe you are expecting too much. The solution is to always keep an open mind, consider lowering your expectations…or raise your price. The price drives the quality of the property.
#10 Fix it up? Or spend more to find a better house?
It depends..on your budget, your know-how and what the property really needs.
Most buyers today do not want to put on new roofs, rewire old electrical, tear up floors to re-plumb or put in new A/C systems. However, if you are looking at a waterfront lot to die for or some other "one of a kind'' features, you may consider spending extra money to upgrade the house.
Keep in mind that major fixes will always cost more to fix than you think and insurance companies are getting pickier about what they will actually insure and or how much they will pay out.
Insurance companies don't like to see "OLD" anything, and they will want those things replaced before they insure your property. They scrutinize older homes, crawl spaces, and wood frame structures.
Insurance companies in 2023+ will become pickier as their policies will have some changes coming up giving less coverage for roofs and increase for residential properties to have higher seer ratings for AC units.
Chances are that an older home will have some kind of expensive deficiency that will need to be replaced before you can get reasonably priced insurance for it.
Old homes that are wood frame with a crawl space can be a permanent nightmare. Crawl spaces are the perfect damp environment for rotten wood and termites. Termites love wet wood and they can do a lot of damage even before you know that they are inside your walls. Have you ever wondered at what makes old wood floors creak, dip and get pitted? Now you know…
My point is this: If you are choosing between homes, pick the ones that will need less insurance upgrades. Buying a home is always your choice and your decision, but it may be wise to limit the money that you will need to rehab just to get insurance coverage.
If you wish to do a bigger rehab like removing walls, adding rooms, or other drastic changes like removing a fireplace, it may be beneficial to consider a home that does not need so much fixing up. A shortage of building materials has creating higher costs for renovations that can result in an unwelcome surprise for most home buyers.
#11 How much do I need to spend on a home in Tampa Bay?
It depends. I know you want a specific answer, but it really does depend upon what you have in mind and what the market bears. Give us a call for a no pressure chat about what you can buy for the money you wish to invest. Buyers Broker of Florida 727-202-9130.
For example: if you are looking for a waterfront home in Tampa Bay then the question then becomes: What kind of Waterfront Living? Single family, condo, or townhome? How big or how small? New or old?
Lakefront
Canal front
Dock or no dock
Fixed Bridges
Retirement Home
Vacation Home
Big waterlot for big boat
Location
Overall, the cost of buying a home on the water will start at about $1 Million dollars. The closer you are to St. Petersburg, Clearwater, Tampa, Sarasota, or the beaches, the higher the price tag. If however you are just looking for a private area simply for good fishing and don't care about night life, or a walkable neighborhood, you may have more choices in the outlying counties..
There is always an extra cost to live where the action is but there are still many good deals overall. Ask us.
#12 Buying a Home? What should I inspect?
What are you buying? House, condo, or townhome? What year was it built? What is the structure made of? Does it have upgrades?
There is always a basic comprehensive home inspection that includes Electrical, Plumbing, Roof, AC, Termite, Appliances etc. That cost will typically range $500-$1000 for an average home size.
Then there are add-ons like the pool, septic, security, and technology features. These are extras that also need to be checked out. If the inspector red-flags something that is important, you then have the option to hire a specialist for a closer look at the problem.
My best advice is never to cheap out on home inspections. There are cheaper inspectors that provide half-assed inspections and then there are expert inspectors who don't discount their services. You get what you pay for.
You are spending hundreds of thousands, or maybe even $millions$ to buy a home…this is not the time to cheap out to learn what you are actually buying. It is important to do all the appropriate inspections so that you can make an informed decision about the home and understand what will need to be replaced in the near future.
Still happy to buy the home "as-it-is"?
Want to renegotiate the terms?
Happy to buy the home if the seller replaces the roof?
Buy the home if the price is reduced?
Don't want to buy the home anymore?
As long as you have a contingency in the contract for home inspections and you are still in your inspection period you may either attempt to renegotiate the contract (yes, even on an "as-is" contract) or you may cancel the contract and receive your escrow deposit refunded.
#13 Should I waive contingencies in order to "get" the property?
Contracts all have contingencies: that means that the buyer or seller must do something or there must be a satisfactory result in order to continue with the contract. Typically the 3 main contingencies for the homebuyer is the home inspection, loan, and appraisal.
If the home inspections are not satisfactory to the buyer they can renegotiate the contact or not buy the property.
If you waive your loan contingency and don't qualify financially, you will forfeit your escrow deposit.
If the appraisal comes up short, the buyer has the option to pay the difference or have the seller lower the price or the buyer and seller may split the shortage in order to continue with the transaction.
If the property is extra nice, unique, or well priced there may be several bidders. The buyer occasionally removes one of their contingencies. Should you? Here are my thoughts:
I never advise removing the inspection contingency because otherwise the buyer may be buying a nest of problems with house deficiencies. Removing other contingencies just depends upon the property, terms of the transaction and the homebuyers budget.
#14 Doing a final walk through…
A final walk through is something that you do just prior to closing. Either on the day before or the morning of closing day.
The walk through is to confirm that the property is in the condition that it should be, and the condition that you bought it in. That the seller has moved out all their personal property and left the property in good condition. Any new deficiencies are still the sellers responsibility.
This is the last look at the home before you sign the closing statement and sign away your rights to complain about anything.
If there are any new deficiencies that were not there at the time you went to contract, this is the last time that you can get a credit from the seller to make you whole.
Some agents don't bother doing a walk-through and some will only do it if the buyer is there to do one for themselves. Some don't even attend a home inspection.
We don't think like that. As Exclusive Buyer Agents, our entire focus is on getting the buyer a good deal and making sure that they are receiving everything they contracted for and are entitled to.
We do attend all home inspections and all walk-throughs. We do both either with the buyer or without the buyer. If they do not attend, we do it anyway. It's just too important not to do one.
#15 Should I buy a home now in 2023 or wait?
Ok, I do understand your dilemma because I also hate to overpay for anything and like to buy everything at a discount.. Here is my experienced answer:
At the start of 2022 I did have some buyers who believed prices would tank and interest rates would fall. So they waited to buy. One couple ended up waiting about 6 months and then paying more $ for the same quality of house. The other two buyers who waited are now priced out of the market due to the rise in interest rates and they can no longer afford to buy in this "still hot" Florida market.
There is no big Real Estate "CRASH" coming, and the miniscule "price adjustment" will be nothing like the crash of 2008. Back then unqualified buyers were able to get a loan and also choose their own appraiser. It is not like that today...
The scrutiny given to mortgage borrowers today is fierce. Lenders check home buyers qualifications carefully. No one can pull in favors with an appraiser. Sellers (due to the strong Florida market) have enough equity that they do not need to foreclose or short sale their property.
If an owner has a financial problem they simply sell the property. Sure, while I am seeing sellers be a bit more flexible, on price and terms, I am also not seeing anyone giving deep discounts or giving anything away…
Throughout my decades in this business I cannot remember anyone regretting buying a property, but I can think of many buyers that said they "should have bought it". Me included. I only regret not buying more property, when I had the chance…
While the Real Estate market cycles, it never goes down for long. It may drop a hair but then a rise in interest rates or the rising cost of building material may dilute any potential savings that a buyer counted on.
Have you noticed that all the Real Estate Market analysts who like to talk doom and gloom sit behind a desk? Are they selling homes? Of course not, so what do they really know? Ask any agent who is in the trenches and their answer will be different because real estate agents that are knee deep in selling property have their finger on the real pulse..they do know up close and personal what is happening.
This is also why the licensed agents in Florida have grown from 300,000 to 455,000 in the past few years. We have more real estate agents in Florida than anywhere else in the country…including California. Why is that?
Because Florida has the HOTTEST Real Estate Markets in the country and Tampa Bay is one of the hottest cities in Florida.
I do not see a future with prices dropping drastically in Tampa Bay. What I do see is a future where the prices will increase less. Maybe increase only 10% a year as opposed to the 20-30% yearly increase as seen in the last couple of years.
Of course, there are areas in the US where home prices are taking a hit, some cities and states are being devalued but Tampa Bay is still a solid sellers market.
Overall, property investment in the U.S. has been proven to be a safe and sound investment. I hope you are getting ready to own this unique piece of sunshine.
Thank you for reading my Blog. I hope you enjoyed it and learned some things you didn't know before. If you have any questions, or need to buy a home, we are ready to work for you with 100% Loyalty, Confidentiality and Full Disclosure.
We are a true Buyer Brokerage office (since 1992) where our entire office represents only buyers and never sellers. Our commission is paid no differently than any other office. We are paid by the listing office or the seller at closing. Buyers Broker of Florida 727-202-9130.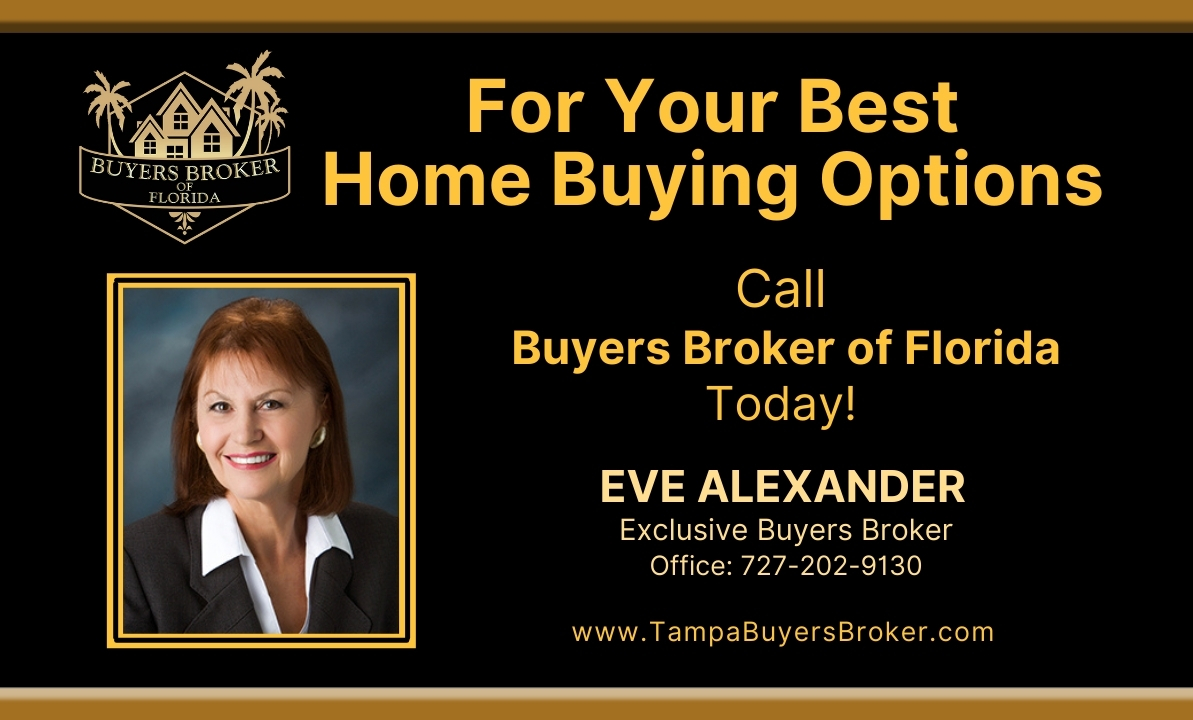 Contact Eve Alexander - Expert Exclusive Buyer Agent