St. Petersburg Homes for Sale | St. Petersburg Real Estate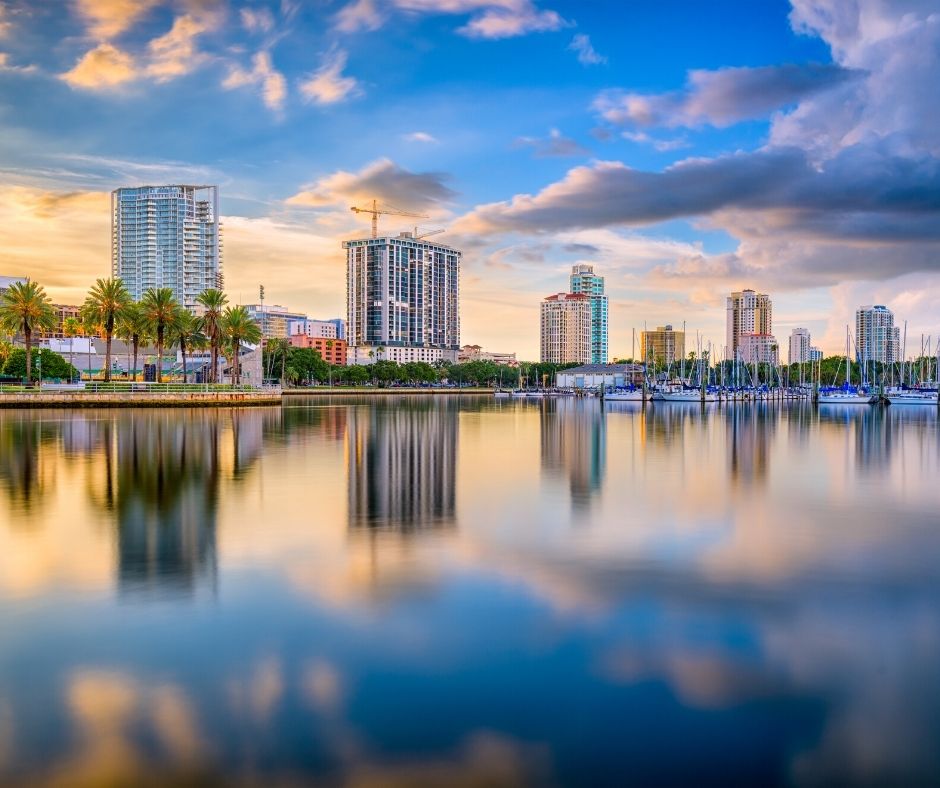 Included below are homes for sale in St. Petersburg. If you would like more information on any of these St. Petersburg real estate listings, just click the "Request More Information" button when viewing the details of that property. We can provide you with disclosures, past sales history, dates and prices of homes recently sold nearby, and more.
And, if you haven't already, be sure to register for a free account so that you can receive email alerts whenever new St. Petersburg listings come on the market. Read on below the listings for more information about living in St. Petersburg Florida.
Read More on St. Petersburg Here
St. Petersburg
November 30, 2023
St. Petersburg Neighborhoods
Is St. Petersburg a Good Place to Live?
St. Petersburg... St. Pete, as many locals call it, has been drawing folks from up north since the 1920s and after the recession in 2008, many invested, moved and now lovingly call St. Petersburg home. Just over the past decade, many millennials, entrepreneurs, and young professionals have migrated to this happening city.
But St. Pete has been cool all along! The vibrancy of the city draws tourists and homebuyers from all over offering that large city living with a small-town neighborhood feel. If you're considering a move to St. Petersburg, here are 20 things to know about this fabulous city!
#1. Locals are called "Burgers", but don't call us that.
And they have nicknamed St. Pete "The Burg" for this reason. The name is trying to stick with the locals but really only newbies use it and folks that have called this area home for decades really won't like it. Just a heads up.
#2. Low Cost of Living.
Yep, it's really a great place to live financially speaking. An income of $50,000 in St. Petersburg is similar to a $75,000 income in major cities like New York, D.C., or San Francisco, so your dollar goes further. Our cost of living is below the US average and ranks 92.2 on the Cost of Living Index by the Council for Community and Economic Research. It's even more affordable than many of its sister cities like Sarasota, Charlotte and Miami.
The median home price for a single-family home is about $250,000 and $180,000 for a condominium or townhouse. The cost of living is 4% lower than the state average, housing is 11% lower than the national average and Florida State income taxes 100% lower than the national average, however, our general sales tax is a little higher than the national average.
#3. We've been ranked as one of the best cities to retire in America.
Home to about 260,000 residents, making it the fifth most populated city in Florida. Over the past year, we had thousands of people relocating to this area, however, we're not as high maintenance as our sister city of Tampa. We feature an urban-suburban mix where most residents own their homes. There's a lot of amenities and of course the weather, which is a perk for many retirees.
#4. The Weather.
Well, of course, we have to talk about the weather, I mean it IS Florida. Did you know that we get an average of 361 days of sunshine each year and average temperatures between 60° and 85° throughout the year? That's a lot of sunshine and beaches are no more than about 15 to 20 minutes from most places in St. Petersburg.
If you're looking for sunshine, warmth, without the blistering heat of some places in Florida, St. Petersburg might be ideal. Some retirees even call it "God's Waiting Room". Really a tongue-in-cheek reference and all in good fun.
#5. We love our Brews.
And if you love beer, you will too. St. Petersburg is known for its great craft beers, local breweries, and lots of bars and restaurants to quench the parched tongue. In fact, there are over 12 craft beer breweries within walking distance of downtown St. Petersburg. If you're new to the area and looking for something fun to do, this is a great way to get to know downtown, although, if you're doing a pub crawl, things might get a little fuzzy towards the end.
#6. Amazing education.
Located in Pinellas County, St. Petersburg as part of the Pinellas public school district, the seventh-largest school system in Florida and home to nearly 104,000 students in 150 schools. Some of the best and most top-rated schools are as follows:
St. Petersburg has a variety of career academics, adult education centers, and virtual school programs. Most families have access to dozens of educational options for student's interests and abilities. They have a strong initiative to support public schools through their St. Pete Promise Program, one of the most successful, community-based programs involving graduation rates and investing in schools, teachers, and students. There are over 100 private schools as well, three of them are listed above.
#7. Phenomenal healthcare.
St. Petersburg is home to seven hospitals, one of which is the only hospital in Pinellas County certified as a Level II Adult & Pediatric Trauma Center and a state-approved Level III Regional Perinatal Intensive Care Center. We have the John Hopkins All Children's Hospital, named one of the best children's hospitals in the country. St. Anthony's Hospital was ranked as one of the top best employers in America. Another reason this is a popular place for retirees.
#8. There's food… Anytime, day or night.
If you are a foodie you will love St. Pete. The food truck scene here is booming and you can find trucks all over the city as well as fantastic restaurants, bistros, fine dining options, casual fair, fast food, and just about any cuisine you can think of.
Some of the best include Bacchus for gourmet European goods, charcuterie boards, and fine wine. The Galley for Florida originals such as alligator etouffee, octopus a la chorizo, and phenomenal weekend brunch. If you're more on the fancy side, check out Il Ritorno for their and northern style of Italian cuisine. They even have a dress code. And one of our favorites the Brick & Mortar Kitchen & Wine Bar for locally sourced cuisine, upscale design without being too expensive, and fabulous wines paired with all of their exquisite dishes.
#8. No income tax.
'nough said.
#9. Vibrant art and cultural scene.
You'll find local artisans creating funky art all over the city and you'll have to experience it at the St. Pete Indy Market. This funky, free-for-all offers the best local goodies from artists and dishes, produce, jewelry, and art. There are seven art districts in town including art and history museums, a booming Central District with multiple shops and attractions, and the ever-popular annual Pride Festival. We also have a permanent collection of glass artwork by the World-Famous Dale Chihuly.
#10. Most people own but renting is affordable too.
A great way to get to learn more about St. Petersburg is to rent for a little while and then by where you want. However, it is our job to help you find the right house in the right location but rent is affordable coming in at about $1067 for the average median rent and a median home value of $183,000. This is slightly lower than the national average and about 59% of St. Petersburg residents are homeowners.
#11. We can get super creepy… If you look hard enough.
Did you know that natives called St. Petersburg the "Gateway to Shadow"? They believed that the Hellview Cemetery was a portal for evil and several paranormal groups have investigated and confirmed it to be haunted. So you can only imagine how popular this place is on Halloween and if that's not enough to scare you, take a walk through the candlelight ghost tour to learn about Dead Man's Key. The love nest of Al Capone, this secret location may hold ancient curses, hunted forts and deserted islands. But don't worry, we always have the sunshine to come back to you.
#12. The Fort DeSoto Park Beach
Named one of America's top beaches, Fort DeSoto Park Beach is much more than a beach. It features a boat launch, fishing pier, nature trails, and 7 miles of pristine white sandy beaches. If you are visiting, stay at the campground a few nights or make it a fantastic day trip. With 7 miles, you know you can spread out and enjoy the beach without feeling too crowded.
#13. We Love Dogs!
We have six dog parks to choose from with several dog-friendly areas and restaurants. There are two dog-friendly beaches as well including the Fort DeSoto Paw Playground and Beach and the Gandy Bridge Causeway. There are many dog-friendly restaurants so you don't have to leave Fido home when dining out.
#14. If you like farmer's markets, you'll love St. Pete.
Saturdays are the best day of the week for farmers market lovers. You'll have to check out the Saturday Morning Market for hundreds of stalls of organic veggies, fruits, crafts, organic meats, cheeses, and herbs. You'll find street performers, live music, and join 10,000 other folks each Saturday. It's a great way to pick out your menu for the week or just enjoy the sunshine, great food, and fantastic music.
#15. It's great for your skin.
Many people say that the fountain of youth is really in St. Petersburg and will let you decide that for yourself. Are over 360 days of sunshine, warm weather, tropical breezes, and the general laid-back lifestyle of St. Petersburg just can't be bad.
#16. The best of the best.
Some of the top neighborhoods for homeowners include North Shore, Old Southeast, Crescent Heights, Euclid St. Paul, and Historic Kenwood. Here's what folks say about these popular St. Petersburg neighborhoods
"St Pete has all the diversity and activity you would expect from a big city, yet it somehow feels like a small town. Whenever we go out, we usually run into someone we know, which is pretty cool. My family is full of foodies, so we love the downtown food scene. There are a lot of cool local fusion places, and there's always something new to try. There's a great variety of music and art events going on that we can check out, and somehow the market doesn't feel oversaturated."

"I am a current resident of Historic Kenwood, the neighborhood is very quiet, my children are in walking distance from the school, and I have had no problems with anyone in the neighborhood. I am down the street from the high school in which my children attend and it's very convenient for us to get there and back. The neighborhood is quiet and there are several activities in the area that we can attend. Every weekend there are activities along central avenue and we are close to downtown where there is also a lot of nice shops, painting, facilities, and some family oriented places where the whole family can hang out and have a good time, not with just ourselves, but with others in the neighborhood." [Source]
#17. You can literally live on the water.
Our neighborhoods don't end at the shoreline. We have entire neighborhoods that literally are floating on the water. It could be on the bay or the ocean and is perfect for fishing, boating, and simply enjoying the water. Give us a call to find out about these fantastic neighborhoods and houseboat communities.
#18. Yes, we have storms.
Well, it can't always be sunshine and roses all the time, can it? St. Petersburg gets pretty close but on those rare occasions, we do get a pretty powerful storm that will roll through the sky. You shouldn't worry too much; most people love these storms and welcome them to give a fresh dose of rain to our lush landscape. Plus, you'll always get a rainbow at the end, just another one of St. Petersburg's amazing artwork. And they leave just about as quickly as they came.
#19. Let's talk crime and safety.
"Short answer: Yes. Long answer: You'll need to come down to get a feel for the area yourself. Most of the neighborhoods north of downtown are perfectly fine, but there are some older ones that are still in transition and, depending on your personal comfort levels, you may not want to end up in those neighborhoods." [Source]
Remember, many retirees live here and don't quite adhere to the 70 mile an hour speed limit… I'll let you fill in the blanks on that one. Of course, it's Florida; we're going to have gators around ponds and lakes but you won't have to worry about earthquakes, avalanches, or mudslides. We have our nice parts of town and compared to Chicago's Southside, most people feel relatively safe just about everywhere. But, it is a large city so danger and safety really depend on one's perception. From living in many different places, there's crime everywhere, but St. Petersburg definitely doesn't top the list.
#20. Is St. Petersburg a great place to live?
YES! If you like warm, sunny days, a moderate-sized city, all the amenities, great parks, amazing food, super arts culture and beaches... I would emphatically say YES!
For more information on any homes for sale in St. Petersburg, contact our office today. We are your Buyer's Broker of Florida.
Contact Buyer's Broker of Florida
SOLD Listings in St. Petersburg
November 30, 2023