West Coast Florida County Map
Buyers Broker of Florida serves areas that include counties of Pinellas County, Hillsborough County, Manatee County, Sarasota County, and Pasco County. We go were the buyers needs are best served. If you have questions about the areas we cover, please send us a text, email, or phone call. West Coast of Florida is growing by leap and bounds and if you are not finding what you are looking for on our website, just ask. 727-202-9130.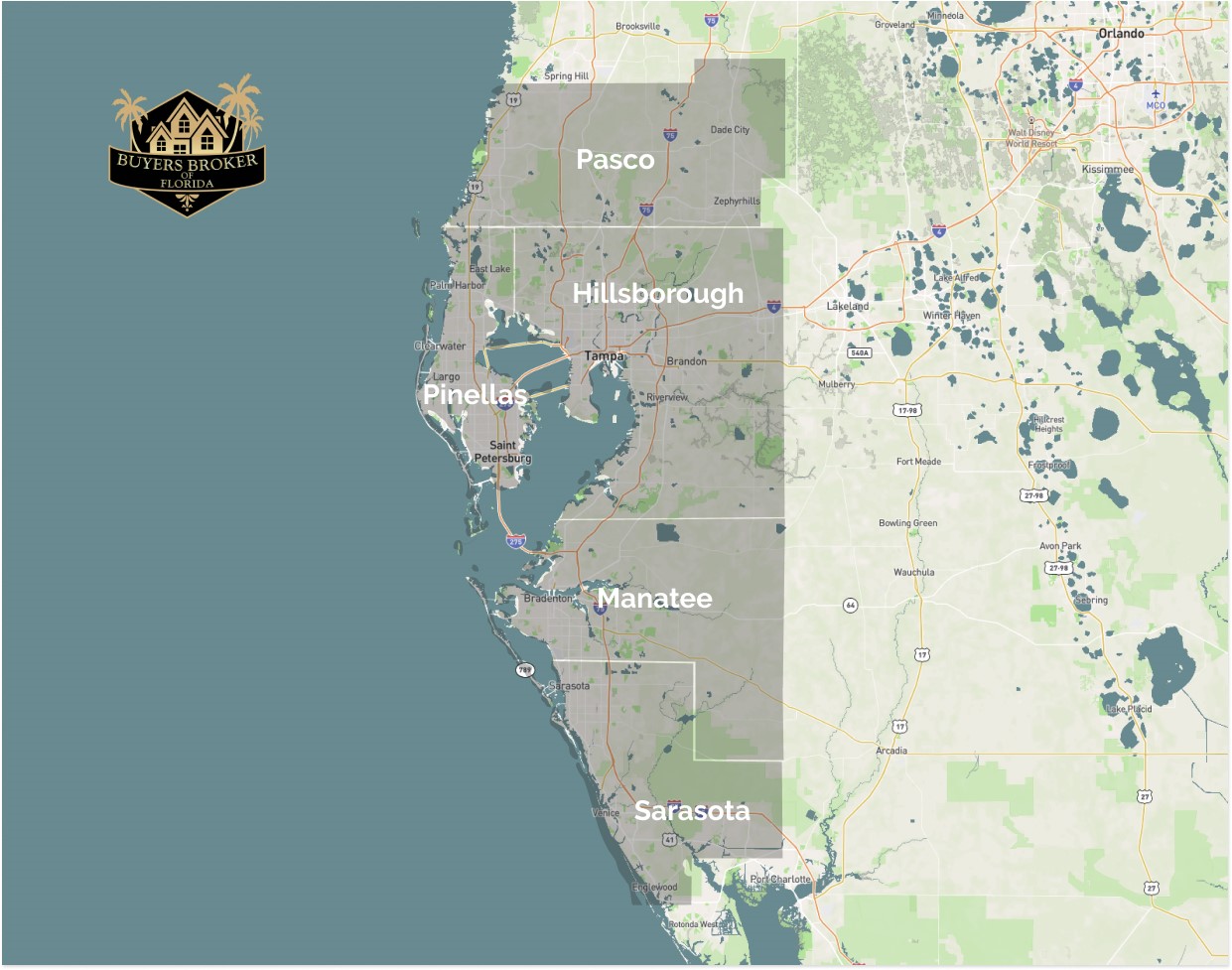 Map of Florida West Coast
Welcome to our premier real estate website catering to buyers interested in the breathtaking West Coast of Florida! Whether you're searching for your dream home in the coastal charm of Sarasota, the natural beauty of Manatee, the inviting communities of Pasco, the vibrant city life of Hillsborough, or the picturesque beaches of Pinellas, we've got you covered in all these counties!
Our map page showcases an extensive range of properties, making it easy to explore the enchanting neighborhoods along the Florida West Coast. With user-friendly tools and detailed property listings, finding your perfect home has never been simpler. Navigate through our interactive map of Florida's West Coast, discovering the finest residential, waterfront, and luxury homes available.
Bask in the allure of Florida's year-round sunshine and explore nearby amenities such as world-class beaches, top-rated schools, thriving cultural scenes, and diverse recreational activities. The West Coast of Florida offers an unparalleled lifestyle that caters to every preference.
Trust our team of expert real estate agents, well-versed in the local market, to assist you in your buying journey. Let us guide you through the process, ensuring a smooth and satisfying experience as you find your ideal home along the scenic shores of Florida's West Coast. Begin your adventure now by exploring our map and discovering the endless possibilities awaiting you in this extraordinary coastal region.
Search our Featured Areas
Map of West Coast of Florida